Paper Story
Posted: May 10, 2013
Post subject: Paper Story
Hey guys,
we are a group of Austrian students working on a short animated film for a project. Itís about a drawing coming to live and leaving the sketchbook, wandering around on the desk. Since this is the first time we work on something bigger we would love to get some feedback, to come up with the best results possible.
We work with Maya and use vray as our renderer. The attached shots are some test renders, compositing isnít done with those yet. Let us know what your impression is, if anything seems off, especially with textures and lighting. This is our first time using vray, so any tips for that would be greatly appreciated.
Also, it would be interesting to know if anyone can help us reduce our render time. Does anyone have advice on what settings to change to get the best quality in as little time as possible.
thanks in advance
Chris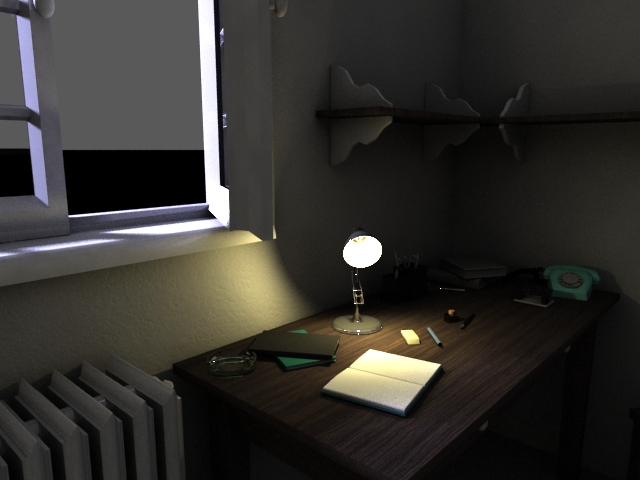 Posted: May 28, 2013
Post subject:
Long render times in vray usually involved some sampling parameters that are set to high number. Check the light samplling, material sampling if their set to default. It can be lowered for fast test renders, etc.
Posted: August 01, 2013
Post subject:
The level of reflectivity in the lamp seems out of place compared to the entire scene. Also, it doesnt feel grounded - there doesnt seem to be any sort of ambient occlusion holding it down on the desk, plus its not plugged in with any sort of cord, for realism sake, add a cord.

My 2 cents.