Design changes to the forum.
Posted: April 25, 2013
Post subject: Design changes to the forum.
Hello Everyone!
There are some design changes to the forum especially in the topic section. I sincerely hope you like them.
Now all the attached images are displayed to fit the forum width and displayed full size when clicked.
Any comments or feedback is welcome.
I will make more changes in the following days so if you find any bugs please report them.
Also 3dmd.net was banned from the google adsense program for a
nude 3d model
, which ironically happens to be mine and I already censored it.
I will try to appeal their decisions but there will be one new rule that
fully naked 3d models should have their intimate parts covered
.
Another change is that I have added banners with 2 best finished 3d models and 2 best work in progress topics on the front page, so if you see an artwork in our galleries worthy of the front page, let people know about it in the comments.
Cheers!
Andy
Posted: April 25, 2013
Post subject:
Cool, thanks for the update Andyba

The forum is looking great! did u mean you've added a banner that includes both best finished and wip images or 2 banners for a wip and another for best finished images? I'm only seeing 1 at the moment.
I hope your appeal with Google's decision is successful.
Posted: April 25, 2013
Post subject:
There is one advert and 2xfinished + 2xWIP.
I have attached a screenshot.. Do you see something different?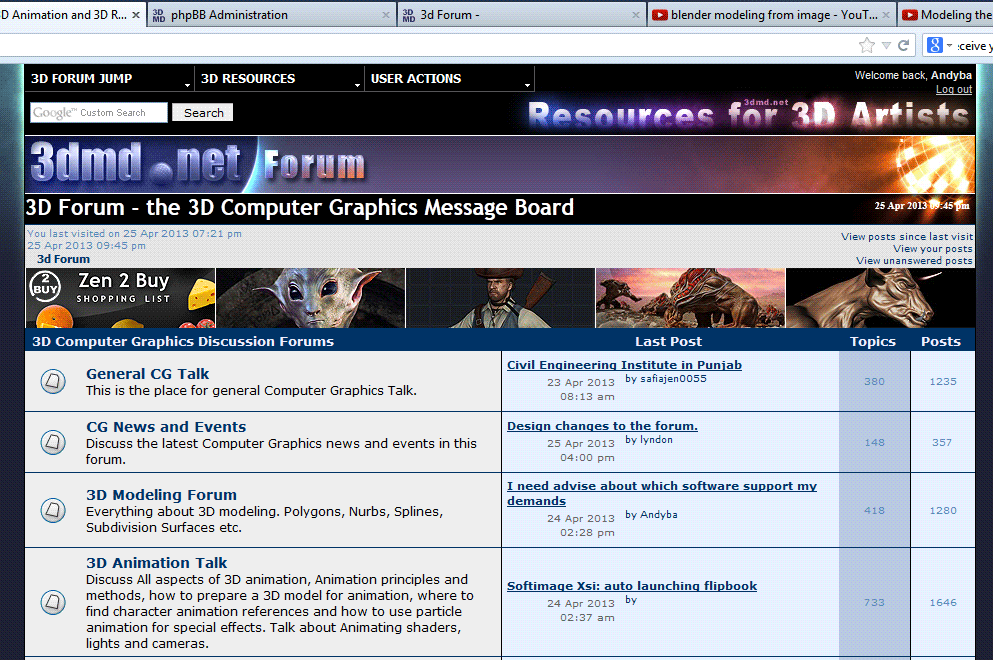 Posted: April 25, 2013
Post subject:
Nope, everything looks exactly the same

I misunderstood what you meant by "banners", initially I thought you meant multiple banners per page, but having a single banner that extends across multiple pages is far more sensible.
ALso I really like the new comment layout with the avatars off-centre and in a circle, I think this will be alot better for scrolling through really long threads. Good Job!
Posted: April 25, 2013
Post subject:
Thank You Lyndon!

The new comment layout also leaves more space for images which is pretty important for a 3d graphics website

Have you tried clicking on images?
Posted: April 26, 2013
Post subject:
Sure np Andyba

more importantly thank you for all your hard work.
yip tested the 2 wip and finals and they all working 100%
i agree the new comment layout lends itself much better to vertically scrolling, which is definitely necessary for an image rich forum.
Posted: April 26, 2013
Post subject:
just tested on mobile (android) the add goes to youtube and the images in the banner r also 100%
Posted: April 26, 2013
Post subject:
I like the comments view, really neat!
Keep up the great work Andy!
Posted: April 30, 2013
Post subject:
Thank You lyndon and cgrafa!

The appeal went well, adsense was re-enabled.
I think 3dmd only won because of this temporary ban, I made some nice changes to the site.

And I will continue to do so.
Here are a couple of new features:
1. I improved the login functionality so that the user stays on the same page. Previously the user was redirected home page after logging in.
2. On the Forum pages you can click on the number of replies to see only topics with the same number of replies.
I need this functionality to find topics without an answer and try to help.
You may want to filter topics that have answers to questions.
Posted: April 30, 2013
Post subject:
cool thanks for the update Andyba and congrats on having the ban removed.
I like the new filtering of topics by response number feature, it could also be useful to end-users such as myself that want to filter to topics that haven't been answered yet. only thing is if you hadn't mentioned it here I would probably not have known about it as it is quite a unique and useful feature to the site. maybe a graphic/icon to indicate it's availability?
Posted: May 01, 2013
Post subject:
Lyndon try to press F5 to refresh the website, then it will show a message when you put the mouse over the replies.
I don't want to add more icons, i think it will make the website too cluttered and I like it clean.
I think I will create a video with all the features when I finish all the changes that will be shown to new users.

Posted: October 30, 2013
Post subject:
I am working at the moment on new features so some things are broken at the moment.
I will try to fix them as soon as possible.

Specifically the Attachment of images is missing when creating a new topic.

If you have any problems using the forum please describe them here.

Whats new:
1.) There is a live preview in the new topic section. You copy paste an img or youtube url and it will show it in the preview.

2.) The forum now looks nice on smartphones. You can now follow the comments from your phones.
Posted: January 05, 2014
Post subject:
Hi there
to every body, itís my first go to see of this web site; this weblog consists
of awesome and in fact good stuff for visitors.