My best close-up renderings so far.
I use Kerkythea for most of my renderings, and I prefer it over other renderers I've used solely because it is simple and easy to use. Not to mention it produces some of the most photo-realistic renderings if you know how to use it.
Here are some of my best close-up renderings I've made so far on Kerkythea. This one in particular focuses on a dining room set with a wine glass and plate.
Let me know what you think and what I could improve on.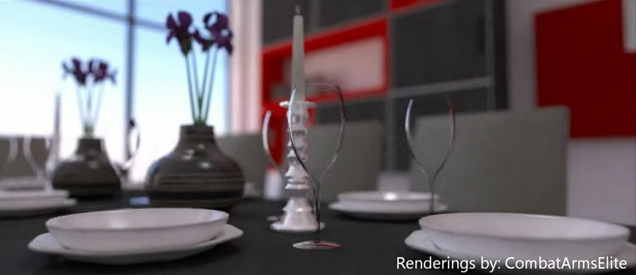 Posted: April 23, 2012
Post subject:
I like your render. There's only one thing for me. I can't feel the weight of objects on the table. But probabely it's because of table color so I cant see shadows and AO or just because picture is small and I miss some details.
Posted: May 23, 2012
Post subject:
like it much
let me see the plates more clearly:P
____
Fox Render Farm
Posted: May 28, 2012
Post subject:
Pretty good, I would increase the image resolution and remove some blur

Nice render

But the color of the table could be different.
Posted: October 09, 2012
Post subject:
Oh..no..I have written the post, but I wasn't logged in. but it's my post above