3d furniture models collections
Posted: December 18, 2009
Post subject: 3d furniture models collections
Scale models vol 01 is a new collection
for architectural renderings solution.
This consists in 52 models (all diferents)
of: Living (complete: 1 sofa, 2chairs, center table) Dining (chairs and table), Chairs, Beds (whit tables) Living furniture.
Material and textures included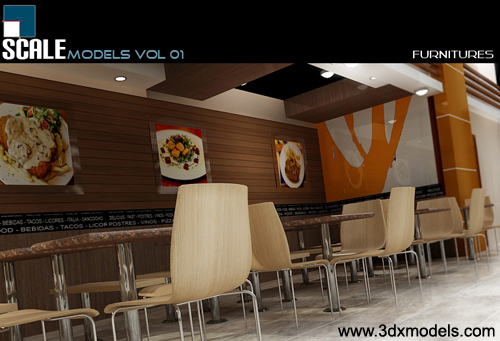 Posted: November 27, 2010
Post subject:
Nice set. I assume you can also adjust the texture and color of the model when you're using it? Is it also compatible with Blender?
Posted: December 13, 2010
Post subject: Re: 3d furniture models collections
It is indeed nice model set of furniture! The 3D designs you have created are really awesome! I would probably check this out in the market, I would like to have the collection one of these days!
Posted: November 01, 2011
Post subject:
Innovative and inspired kitchen designs gives new life into your kitchen.Those are looking really awesome designs...i like those set designs.Thanks for sharing this nice post.
Phoenix kitchen cabinets
Posted: December 11, 2011
Post subject:
This set is wonderful. I like the look of the chair on the first photo.
Posted: January 12, 2012
Post subject:
really it is very nice i really love the tables and chairs they look beautiful