Ambient Occlusion Tutorials
Posted: September 04, 2009
Post subject: Ambient Occlusion Tutorials
Ambient occlusion
is a shading method used in
3D rendering
which helps add realism to the final rendering.
Ambient occlusion is a global rendering method
, unlike local shading methods like Phong. What it means is that with ambient occlusion shading illumination at each point depends on other geometry in the scene.
Ambient occlusion is usually calculated by casting rays from the surface of 3d models in all directions
. In two words it works like this: The rays that do not intersect any objects increase the brightness of the surface, and the rays which intersect another surface do not contribute illumination. As a result, surfaces surrounded by objects appear dark, whereas points with no geometry around are rendered light. Of course it is a bit more complicated but the principle is this.
Here is an example of using Ambient Occlusion so that you know how it looks: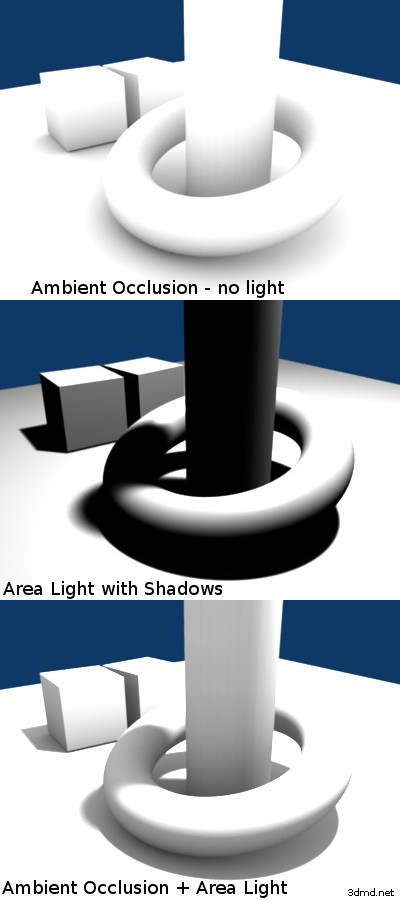 You can see above how ambient occlusion together with traditional lighting techniques provide more realistic results.
Here is a detailed video tutorial about Using Ambient Occlusion in Maya.
I recommend watching it in HD.
Posted: September 04, 2009
Post subject:
Here is a video tutorial on
Ambient Occlusion in 3ds max
The tutorial has no sound but it is quite clear in my opinion
Posted: September 04, 2009
Post subject:
This is a short video tutorial that will help you find the Ambient Occlusion in Blender


Posted: April 06, 2010
Post subject:
Oh ambient occlusion looks so beautiful. Is not GI but it has most of its looks.

Cartoon characters look particularly beautiful with it and I also like the way very high polygon models look with it in white or a light color.

I also done a few simple scenes with GI in Blender with Yafray and I love the way they look.

Nowadays I'm using Blender's built in ambient occlusion and with my new i7 PC it runs pretty fast even if I use it in raytrace mode instead of the simulated mode and I just love it.

Also Blender's ambient occlusion has improved a whole lot in the latest versions. It's way better than the way it was when I first started to use it many years ago cause it was too grainy and now the models can look much more smoother.
Posted: July 28, 2010
Post subject:
Thanks for the tutorial Andybas. I myself just add the AO pass over the image in PS.
Amazing blog! Continue the informative posts.
Posted: November 27, 2010
Post subject:
These things are great. Thanks so much for putting this and other items up. They're incredibly helpful.
Hey just becoming a member, glad to be in! I'm glad to be right here last but not least, heading to submit considering I've been studying a lengthy time.

Sooo anyways, sufficient info about me, see you all around and hello again haha.

BTW where is the option to change the little picture thingy like some people have, I like it but can't figure it out haha
Nice work! Very helpful. AO really gives the work an edge.
There are actually numerous details like that to take into consideration. That may be a nice level to bring up. I supply the ideas above as common inspiration but clearly there are questions just like the one you deliver up where the most important factor will likely be working in trustworthy good faith. I don?t know if greatest practices have emerged around issues like that, however I am certain that your job is clearly identified as a good game. Each boys and girls feel the impression of just a momentís pleasure, for the rest of their lives.
Posted: March 04, 2011
Post subject: Does anyone have an answer for this?
I'm about to begin a brand new website and I am on the lookout for some advice. First, can somebody give me an instanceof a web site that is good for google? I am having a tough time figuring this out. Second, I have a query aboutgetting a brand new pc, can somebody clarify to me what a front side bus is and why it makes your laptop faster?
Posted: February 16, 2012
Post subject:
Really good resources. Thanks so much.

I will definitely look into this.