3D Game class is open for registration
Posted: August 14, 2009
Post subject: 3D Game class is open for registration
Hi everyone,
My good friend Sue Blackman will be teaching a 3D Game class at Palomar College. This is a hands on class (not virtual) at the community college in North San Diego area. Anyone over 18 years old can take the class, you must apply and register. You do not have to go for a degree if you just want to take this class, it is open to community members.
The 3D Game class will cover
- creating a complete 3D platform game level;
- creating an interactive training simulation;
- creating an interactive architectural walkthrough
go to
www.palomar.edu
class: DT 182
for more information, go to:
www [dot] 3dgal [dot] com/images/GameClassFlyer_2009.jpg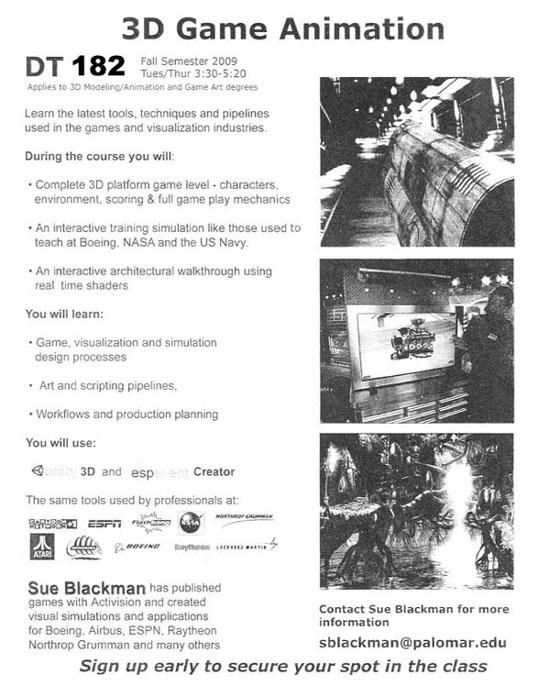 Posted: September 04, 2009
Post subject:

Andyba

Site Admin
Is it for free?
If it is not how much does it cost?
Posted: September 10, 2009
Post subject: class costs
The class costs $26 per unit, at 3 units plus school fees, it comes out to $99.00. Parking for the semester is $40.00

If you are interested in joining, please hurry. School started 8/24, and I think you can still add tomorrow. We are about to finish one project and start on the 2nd project.