My best close-up renderings so far.

I use Kerkythea for most of my renderings, and I prefer it over other renderers I've used solely because it is simple and easy to use. Not to mention it produces some of the most photo-realistic renderings if you know how to use it.
Here are some of my best close-up renderings I've made so far on Kerkythea. This one in particular focuses on a dining room set with a wine glass and plate.
Let me know what you think and what I could improve on.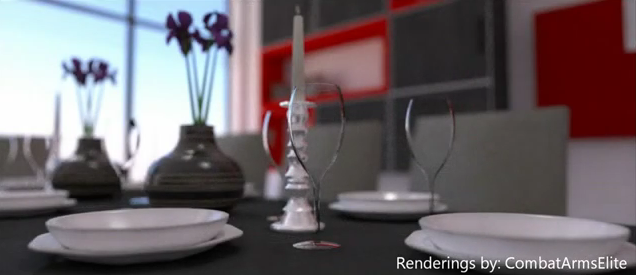 baalnazzar
3D Demolition Squad
Joined: 12 Jun 2010
Posts: 310

Posted: April 23, 2012
Post subject:
Joined: 19 Sep 2011
Posts: 12

Posted: May 23, 2012
Post subject:
Joined: 28 May 2012
Posts: 3

Posted: May 28, 2012
Post subject:
Joined: 08 Oct 2011
Posts: 68

Posted: June 05, 2012
Post subject:



Last edited by Frontopni on December 07, 2012; edited 1 time in total

AdelScott
CG Fairy
Joined: 02 Oct 2012
Posts: 14

Posted: October 09, 2012
Post subject: